Latest News
KADUNA SOLAR FARM FLAG-OFF CEREMONY
31 SEPTEMBER 2011

Patrick Yakowa, Governor of Kaduna State, cut the ribbon at the official Flag-Off Ceremony for the Kaduna Solar Farm, enabling the formal mobilization of Synergent's partners to start building this historic project. Engr. Mrs. Bahijjahtu Abubakar, the Head of the Renewable Energy Programme in the Federal Minstry of Environment was on-site to support the event and looks forward to the expansion of new projects similar to Kaduna across all 36 states in Nigeria. Details of the news coverage can be found here.


KADUNA SOLAR FARM SITE PREPAPRATIONS BEGIN
20 MAY 2011

Following meetings with the Federal Ministry of Environment and the Kaduna State Government, Synergent Nigeria was officially handed over the 300+ acre site designated for the development of Nigeria's first Utility Solar PV Farm. The site, located near the New International Airport, is now being surveyed and cleared in preparation for the installation of over 200,000 solar panels as well as the construction of a New Energy Training Center to support technical and community training across Kaduna State.


USA TECHNOLOGY VISIT: KADUNA DELEGATION
10 DECEMBER 2010

A delegation of Federal representatives led by Engr. Mrs. Bahijjahtu Abubakar visited key technology partners in the USA who will be providing equipment and training to build the new Kaduna 50MW Solar Farm. Visits were coordinated in Los Angeles and San Francisco featuring RayTracker Systems, Schneider Electric, Dyocore Wind Turbines and Suntech America in order to support the formal permitting and approvals process of this landmark project.


RENEWABLE ENERGY TRAINING PROGRAMME
24 NOVEMBER 2010

Synergent is organizing technical training and certification of technicians and engineers for Solar Energy projects in Kaduna State. Synergent's Technology Partners will provide hands-on technical training at their facilities in California (USA) for qualified engineers, who will then return to Nigeria as certified trainers for local technicians with both print and web training support tools.


50MW SOLAR FARM PROPOSED FOR KADUNA
8 OCTOBER 2010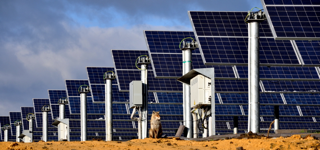 In partnership with the National Renewable Energy Programme, Synergent has proposed a 50MW Solar Farm development in Kaduna City, Kaduna State. This project will consist of 5x10MW phases and will include a Renewable Energy Training Center that will support a wave of green-collar jobs associated with the project.